Our Most-Asked Questions About Out Port of Miami Cruise Parking
Can't Find the Answer You Need? . Feel free to email us at [email protected]
Q. What is the process to check-in at Safe Cruise Parking?
A. We are in located inside a garage. Once you enter the garage the machine will dispense a ticket that you will need to hold on to. Please take a picture of the barcode on the ticket and place it on your dashboard. You may park on any level of the garage. Once you park you are required to check-in at our office, located on the 1st floor, to receive shuttle information. This ticket will need to be validated once you return from your voyage. If this ticket is not validated by staff, the garage will charge you upon exiting. If the ticket is misplaced, the city of Miami will impose a LOST ticket fee. Safe Cruise Parking will not be responsible for any fees accrued by the garage or the City of Miami.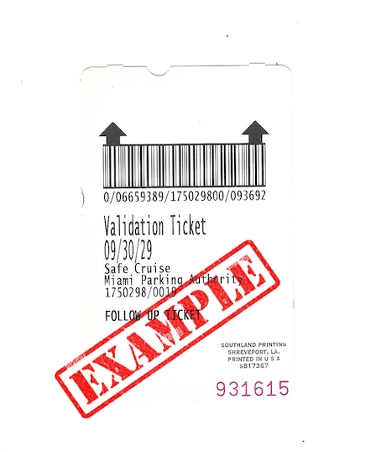 Q. Do I need to reserve a cruise parking spot?
A. During peak travel times, our rates may vary, but just like your cruise, booking ahead of time online should always get you the best deal! Safe Cruise Parking reservations can be made at any time before the day of your cruise.
Q. Is your facility a garage or an open lot?
A. Our facility is a multi-story garage with elevator service. The driver will assist in loading your luggage onto the shuttle, but you are responsible for bringing your luggage to the first floor and the shuttle. Please note that that garage has a 7'0 clearance.
Q. How does it work?
A. Upon arriving at the Safe Cruise Parking, you will hand your reservation copy to the attendant. You will receive return shuttle instructions from staff upon arrival.
Q. Will the shuttle driver help me load bags?
A. We are located in a garage, you will be responsible to bring your luggage to the lower level, where the shuttle is located and driver will take your baggage from that point.
Q. Will the shuttle pick us up from the Port?
A. Yes, the shuttle driver will pick you up from the port. Upon your return, proceed to the designated wait area, look for a shuttle with our name on it. You will receive proper contact information from our staff at check-in
Q. What time does the first shuttle leave to the Port?
A. From 7:30am to 10:00am we focus on customers who are disembarking, or coming off their cruise. Our first shuttle approximately leaves at 10:00am. Shuttle runs every 15 to 45 minutes, depending on traffic in the terminal. (we suggest walking off with your luggage to avoid long wait times)
Q. Is the shuttle FREE?
A.  Our shuttle is a FREE shuttle to and from the port for up to 6 passengers per vehicle/reservation. The shuttle is first come, first serve. If at any point you do not wish to wait you may choose to take another form of transportation.(Uber/Taxi/Etc)  However, Safe Cruise Parking is not responsible for those charges.
The First Shuttle Is At 10:00 a.m.   The Last Shuttle Is At 2:30 p.m.
Q. How do I request a cancellation of my reservation?
A. You may contact reservations@safecruiseparking.com  Cancellations and refunds will be granted if the cancellation is done within our guidelines.
If you need further assistance or clarification, you may contact customer service at (305) 756 – 1117
or send an email to reservations@safecruiseparking.com. A representative will follow up with you via email or by telephone depending on your preference.
Q. Holiday and Peak Season
Peak season or High season is considered from November to April. This simply means that this is the busiest time of the year for the Port of Miami so patience is key. Thanksgiving, Christmas, New Years, and Spring Break season does vary shuttle times. Around this time of the year there are about 15,000+ people traveling in/out of the Port of Miami. We always suggest dropping off additional passengers and luggage off at pier/port  first and just sending the driver to check-in for your parking reservation. Customers without luggage have priority for the shuttle (always). 
Q. What is your refund policy.
A. We kindly ask that you cancel your reservation 24 hours in advance. All cancellations are subject a 10% cancellation fee. Same-day cancellations are subject to a 50% cancellation fee. Please note that we have partners who sell parking through us; double-check that you have made your reservation directly on this site. Partner cancellation policies can vary.
Additionally, refunds are only issued for cancellations and non-use of actual parking. No refunds will NOT be given for shuttle service issues. Using our company, the customer must understand and agree that the shuttle is a free and optional service.
More Questions: Contact Us Today:
Online or via phone at (305) 756 – 1117 between the hours of 8:00 a.m. – 4:00 p.m. EST, 7 days a week.
Disclaimer
Once you leave the parking lot, you assume responsibility for your car. Any claims for theft/damage must be provided with a police report filed at parking location.